Sarah Hicks
Noted in the New York Times as part of "a new wave of female conductors in their late 20's through early 40's", Sarah Hicks's versatile and vibrant musicianship has secured her place in "the next generation of up-and-coming American conductors". In October of 2009 she was named Principal Conductor, Pops and Presentations of the Minnesota Orchestra; in addition to conducting most Pops and Special Presentations, she has been instrumental in creating new Pops productions while also heading the innovative classical series, "Inside the Classics" with which she recently completed a Microcommission Project with composer Judd Greenstein. Hicks concurrently holds the positions of Staff Conductor of the Curtis Institute of Music. Throughout her career she has collaborated with diverse artists, from Jamie Laredo and Hilary Hahn to Josh Groban and Smokey Robinson; during the summer of 2011 she was on a two-month tour with Sting as conductor of the final leg of his Symphonicities Tour. In June of 2012 she conducted the opening concert of the St. Petersburg International Economic Forum, and program featuring Dmitri Hvorostovsky, Sumi Jo and Jackie Evancho.
Ms. Hicks has guest conducted extensively both in the States and abroad, including the Philadelphia Orchestra, Chicago Symphony, San Francisco Symphony, Atlanta Symphony, Milwaukee Symphony, Detroit Symphony, National Symphony, Indianapolis Symphony, Phoenix Symphony and Prime Philharmonic (Seoul, Korea), and the Orchestra of la Teatro Fenice. She has led the Los Angeles Philharmonic in July 4th concerts at the Hollywood Bowl in 2012 and 2013; upcoming concerts include return engagements in San Francisco and Philadelphia as well as debuts with the Boston Pops, Pittsburgh Symphony and Cincinnati Pops.
Ms. Hicks's past positions include Associate Conductor of the North Carolina Symphony Associate Conductor of the Richmond Symphony Orchestra, Resident Conductor of the Florida Philharmonic, and Assistant Conductor of the Philadelphia Singers, the chorus of the Philadelphia Orchestra, whom she has led in radio broadcasts heard nationwide. She has also been Music Director of the Hawaii Summer Symphony, an ensemble she founded in 1991 in her hometown of Honolulu and which she led for five seasons.
Ms. Hicks was invited to Japan by the New National Theatre Tokyo, where she acted as assistant conductor to a production of Mozart's Die Zauberflöte and has performed Verdi's Aïda with the East Slovak State Opera Theater. Her extensive work with the Curtis Opera Studio include performances of Poulenc's Dialogues des Carmelites and numerous vocal concerts; she led the Opera Studio's production of Handel's Alcina in 2005 and led the Minnesota Orchestra in a semi-staged production of Humperdinck's Hansel und Gretel in 2009.
A committed proponent of the performance of new music, Ms. Hicks recently completed a Microcommission Project (the first of its kind) with the Minnesota Orchestra in which hundreds of people made microdonations to fund a major new work by composer Judd Greenstein. She regularly leads the Curtis Symphony Orchestra in readings, recordings and performances of contemporary works. In addition to premiering works by young composers from both the Curtis Institute and the University of Pennsylvania, she has collaborated with Ned Rorem and Jennifer Higdon. Her recording project with the Vermont Symphony, "Triple Doubles", featuring music of Richard Danielpour and David Ludwig with Jaime Laredo and Sharon Robinson, soloists was recently released on the Bridge Label. She has also conducted performances with Composers in the Shape of a Pear (Cleveland) and the Aspen Contemporary Ensemble.
Ms. Hicks was a member of the Faculty of the Curtis Institute of Music from 2000-2005 and continues her affiliation with Curtis as Staff Conductor. She has prepared the Symphony Orchestra of the Curtis Institute for readings and concerts with leading conductors including Wolfgang Sawallisch and Sir Simon Rattle. Her work with the Curtis Symphony led to a one-season appointment as assistant conductor to the UBS Verbier Festival Orchestra, and ensemble she trained intensively for Music Director James Levine, to whom she acted as assistant conductor.
Sarah Hicks was born in Tokyo, Japan and raised in Honolulu, HI. Trained on both the piano and viola, she was a prizewinning pianist by her early teens. She received her BA magna cum laude from Harvard University in composition; her AIDS Oratorio was premiered in May of 1993 and received a second performance at the Fogg Art Museum the following December. She holds an Artists' Degree in conducting from the Curtis Institute of Music, where she studied with renowned pedagogue Otto-Werner Mueller. Ms. Hicks's talents have been recognized with numerous prized and scholarships; she received the Thomas Hoopes Prize for composition and the Doris Cohen Levy Prize for conducting from Harvard University, and she was the recipient of the Helen F. Whitaker Fund Scholarship and a Presser Award during her time at Curtis.
In her spare time, Ms. Hicks enjoys running, yoga, her German Shepherd, cooking (and eating) with her husband, traveling and sketching.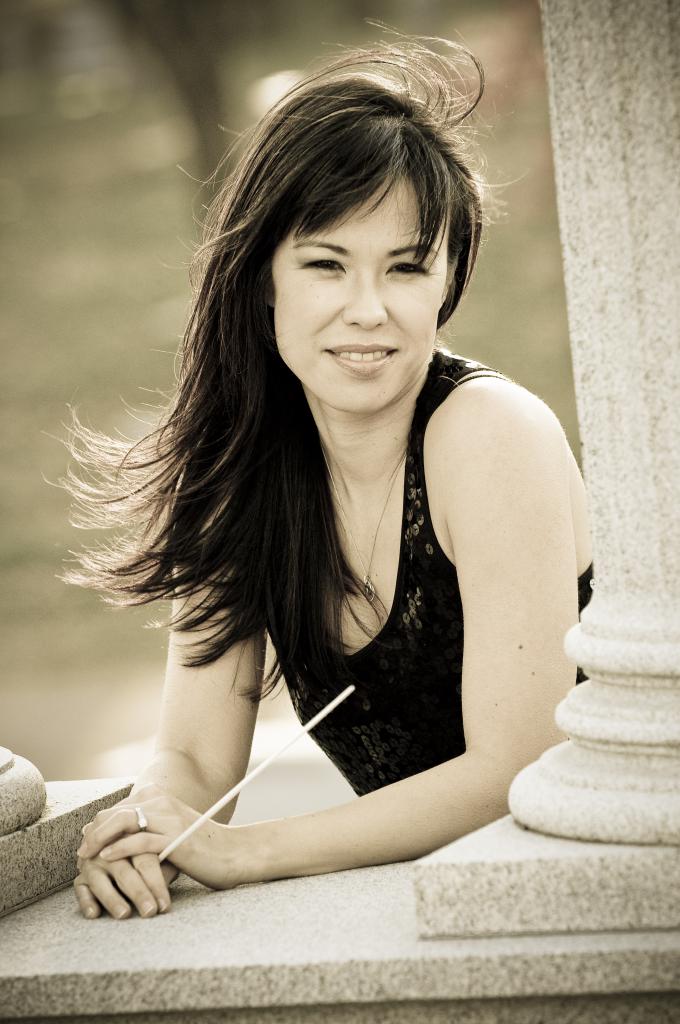 Source: www.cami.com